Indiana Confirms Green County Mountain Lion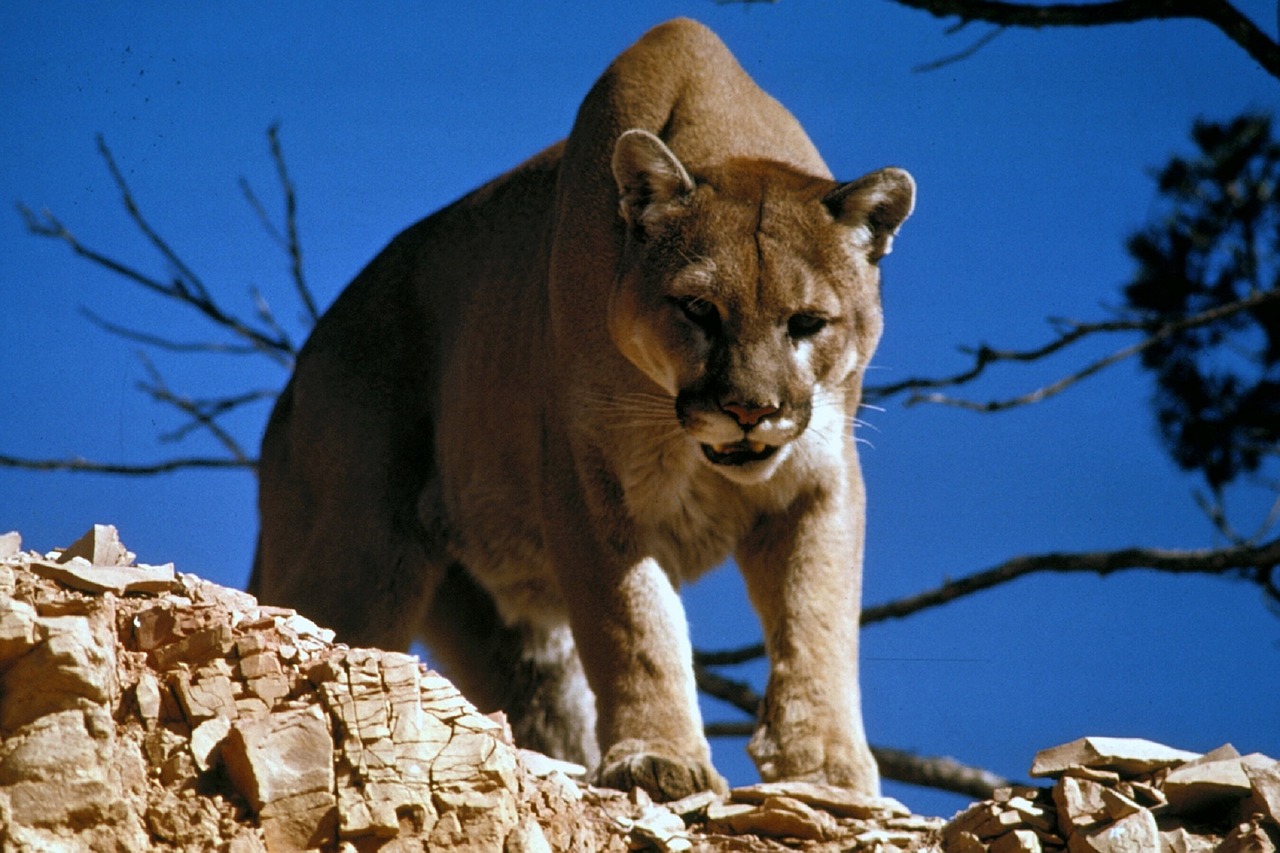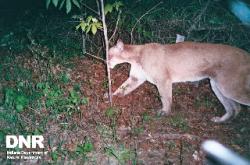 A mountain lion has been confirmed in a rural part of Greene County east of Bloomfield as a result of a new Department of Natural Resources policy designed to systematically collect data and evaluate reported sightings of such animals.
A mountain lion's presence was verified by Scott Johnson, the DNR's non-game mammal biologist and member of the DNR Division of Fish and Wildlife's team that assists in reviewing reports having credible evidence.
Johnson made the determination from photographs taken by motion-sensitive game cameras placed in the area after a preliminary investigation found evidence consistent with mountain lion behavior, including an eviscerated deer carcass buried under a pile of leaves.
The cameras were set on April 30, and multiple images of a mountain lion were captured at approximately 2:30 a.m. on May 1.
Johnson was contacted after a conservation officer from the DNR Division of Law Enforcement received a call from a citizen. Conservations officers helped Johnson set the trail cameras and have been informing local residents of the mountain lion's presence.
Mountain lions are known by many names, including cougar, puma, catamount and panther. Historically, mountain lions (Puma concolor) lived in most of the eastern United States, including Indiana. Different published reports cite the last documented case of a wild mountain lion in Indiana as somewhere between 1850 and 1865.
The chance of encountering a mountain lion today in Indiana is almost non-existent, but people should be alert to their surroundings. If an encounter does happen, the MLRT points to advice from authorities in Western states, where mountain lions are more common:
Do not approach a mountain lion. Give it a way to escape.
Do not run from a mountain lion. Instead, stand and face the animal. Make eye contact.
Do not crouch or bend over. Do all you can to appear larger. Raise your arms, open your jacket or shirt. Wave your arms slowly and speak firmly in a loud voice.
Hold children and pets near you.
Fight back if attacked using big sticks, stones, or any other available items.
"One thing to point out is mountain lions are not stalkers," said Gary Langell, the DNR's private lands program manager and developer of the mountain lion policy. "They don't stalk prey. They tend to pick an active game trail, like a deer trail, and wait for a deer to come by. That's typically why you don't see livestock kills from mountain lions. They lay in wait rather than stalk."
The purpose of the policy is to develop a consistent procedure to investigate reported sightings and to institute a formal data collection and storage system.
"The objective is to keep the public abreast of all developments regarding mountain lions in Indiana based on the best available scientific information," Langell said. "More than anything, it was prompted by increased reports of mountain lions migrating east, specifically out of South Dakota. Of course, there have been a couple reports from Michigan, and one in Chicago. At that point, it becomes more apparent we could have mountain lions show up in Indiana."
Without additional evidence, Langell said it's impossible to say if the mountain lion photographed in Greene County is wild or is a formerly captive cat.
The DNR occasionally receives reports of mountain lion sightings around the state, but typically the evidence has turned out to be something other than a mountain lion, has been inconclusive, or has proved to be part of an Internet hoax.
Since the policy's inception March 1, 19 mountain lion sightings have been reported. The report in Greene County is the only one confirmed to be a mountain lion.
Langell said two reports were confirmed by biologists as animals other than a mountain lion. Sixteen were designated as "unconfirmed" either because of no physical evidence or because photographs provided were of insufficient quality to identify characteristics of any animal type.
Prior to implementing the policy, a DNR biologist investigated and confirmed in late 2009 a mountain lion in Clay County based on evidence submitted by a hunter who had taken photographs from an elevated hunting stand while wearing camouflage. Another biologist investigated a report near Idaville in White County in December, but evidence was inconclusive.
Mountain lions are a protected species in Indiana, but state law allows a resident landowner or tenant to kill a mountain lion while it is causing damage to property owned or leased by the landowner/tenant. If the landowner/tenant wishes to have someone else take the mountain lion, that person is required to secure a permit from the DNR Division of Fish & Wildlife.