It's Gonna Be A Great Deer Season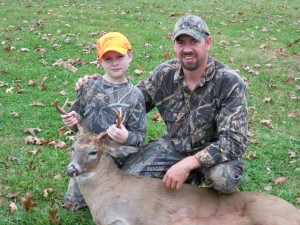 With deer season just days away, to say I'm a little excited would be an understatement!  The 7 month wait is over, and it's finally about time to slip by into the deer woods and see if I can't let the air out of a few deer – and capture it all on video.  Of course, it helps to have a great looking 10-pointer coming in daily to pose for the Spypoint trail camera!  But that's not what really fires me up about the upcoming deer season.  I'm excited because my son and wife will both be joining me in the deer woods this year with a bow in their hands for the first time.  Now, that's something to get stoked about!
After getting my son's bow a few days ago from good friend and prostaffer Billie Crider, we headed out to Kings Archery to get it all set up.  Scott and his staff do a great job of working with new shooters, taking the time to make sure the bow's draw length and poundage were just right, and that everything on the bow was working as it should.  Even though Dakota had never really shot a bow with sights/peep sight, they had him shooting a pretty decent group at 10 yards in a matter of minutes.  Sure,  it's going to take a few weeks of solid practice before I feel comfortable letting him draw back on a deer, but I am already anticipating our first bowhunt together.
To top things off, when we got home from getting the bow all set up, I had my wife, Tina, draw it back and it fit her perfectly.  She has wanted to get out more with me for a while now, and fitting in hunts during a very short 16 day gun season is always tough (although she has managed to kill 2 deer on 2 hunts over the last two season…not too shabby!).  With nearly 5 months of bow season, there should be a lot of opportunities to spend time together in the field.
While killing that big 10-pointer (Mr. Crabs) on video would be extremely rewarding, nothing could make this season more special than getting to see my son and wife harvest their first deer with a bow.  I hope you'll follow along, as the season progresses and see how things go.  I will be posting regular blog entries, video clips, etc., to keep you updated.