The secret of the most expensive coffee in the world: Elephant Droppings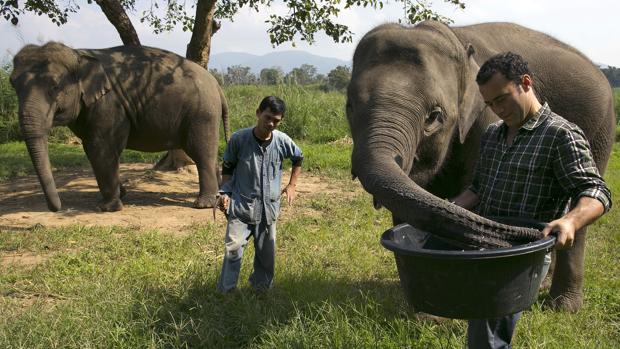 The beans ingested and defecated by an elephant are the key to this coffee that comes out of Thailand.
Dubbed Black Ivory , a cup of this coffee can cost more than $60.
It can be tasted in five-star hotels and Michelin-starred restaurants.
Finding the precise formula is a long and complicated path that Blake Dinkin knows, who for a decade was determined to develop a process to achieve quality coffee from grains ingested and defecated by an elephant, and which is the most expensive in the world. .
"When I first tasted the coffee from the first experiment, in February 2003, I knew perfectly well with the first sip what an elephant tastes and smells like. It was horrible," recalls Dinkin, who despite his unpleasant experience persevered in his attempt.
The Canadian entrepreneur, knowledgeable about the coffee industry after working on civet coffee projects in Ethiopia, embarked on a quest to apply his knowledge and create an industry "more sustainable and one that brings a benefit to society" while inquiring about the possibility of using Other animals.
"That's when I heard that in times of drought, elephants come out of the jungle and enter coffee plantations in search of food. This creates a conflict with farmers and many animals die of poison," says the businessman, who discarded the idea of ​​using giraffes, zebras and even lions.
Solidarity project
For ten years and after traveling around the world, the businessman settled in Thailand where he now bases his production in the town of Ban Ta Klang, in the eastern province of Surin, for his brand known as Black Ivory).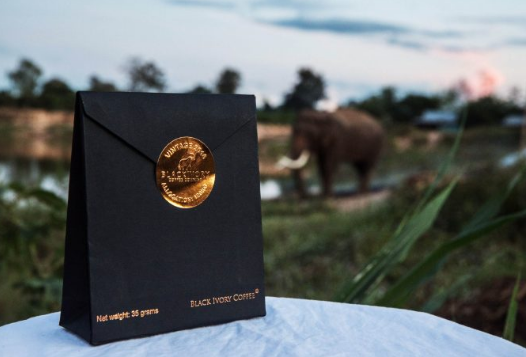 "I thought it would be easy: give the elephant some berries to eat, let them come out, clean and dry them, but it was not. It was much more complicated , until 2011 I did not find a result that satisfied me and I worked even more to improve it. There is people who have tried to copy me, but in a few weeks they all stop," says Dinkin.
In 2012, the businessman began collaborating with the Golden Triangle Foundation, in northern Thailand, but "the animals are treated very well there, they have a good life, a feast every day" so in 2016 he moved his operations to Surin where "families live with elephants based on their traditions".
In Ban Ta Klang, an impoverished district that bases its economy on rice cultivation, there are about 300 elephants used in agriculture and tourism.
"Right now I work with 27 elephants who live with as many poor families , and for whom my contribution may be more positive," explains Dinkin, who previously worked on corporate social responsibility projects.
It is the families who collect one by one the coffee beans found in the pachyderm's dung in exchange for payment of 350 baht (10 dollars or 9.3 euros) per kilo.
"It is a decent amount that they can earn in less than an hour of work if you compare it with the 7 bath (19 cents of the dollar or 18 cents of the euro) per kilo that they obtain in the grain harvest in the mountains," says the Canadian. , by influencing that he pays more than the minimum wage per day (300 baht) in Thailand.
Mixed between rice, fruit and other vegetables, elephants consume an amount of coffee berries that account for less than 1% of their daily diet.
"The enzymes in the stomach eliminate the proteins, responsible for the bitterness of the coffee, and the berries marinated with the fruit juice and other herbs that are fermented in the belly create a sweeter and more pleasant taste with fruity aromas", indicates the person in charge, who guarantees that the product is completely neat.
For every 33 kilos of coffee beans consumed by the elephants, Dinkin only recovers one , since most are lost while walking through the jungle, bathing in the river or chewing.
A cup of "Black Ivory" can cost more than 60 dollars and can be tasted in five-star hotels and Michelin-starred restaurants , while more domestic palates can purchase the product online.
"People are becoming more educated about coffee consumption, but I also give an addition and with my product I sell an experience," says Dinkin, who currently has an annual production of 150 kilos that he intends to expand.
Among the products with the Black Ivory seal there is also a coffee with nitrogen and a black beer, made in collaboration with the Danish brewery "Mikkeller", exclusively for the Danish and Thai market, presented in February.
"Despite all the headaches and even if I won the lottery tomorrow, I would continue doing what I do. I love these animals and I love my job ," says the producer, who donates a percentage of his profits to an organization for the care of the elephants.